Led Road Flares Rechargeable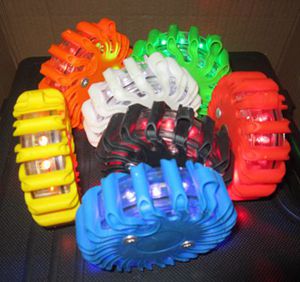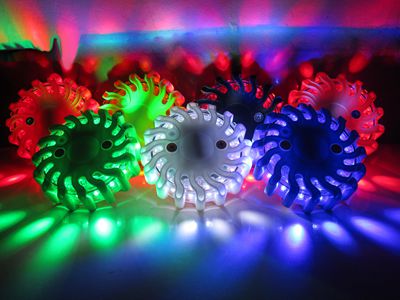 LED Road Flares Rechargeable Specification
1.16 led lighting and 9 flashing patterns (including S.O.S. Morse Code). Visible up to 1/2 mile.
2.Magnet on back allows it to be attached to metal surfaces.
3.Waterproof, crushproof and corrosionproof (Can even be run over by a truck and still operate)
4. We are Led Road flares factory(manufacturer) in China.
5.Safer and ecologically better for our environment than flame style emergency road flares.
6. Led Road Flares will hold a full charge for 90 days and 90% charge for 180 days.
7.Rechargeable Li-Ion 900 mAH, 12/24 Volt and 110/220v Adapor
LED Road Flares Rechargeable Features:
1.Led Road flares with 16 LEDs visible up to 1/2 mile
2.Waterproof to 50 feet
3.Corrosion proof & crush proof
4.360 degree lighting coverage
5.High strength magnets attach to metal surfaces
6.Rechargeable battery included, does not need to bereplaced
7.9 Flash patterns including S.O.S. Morse Code
8.Flare Dimensions: Diameter:10.5 Height: 3.5cm
9.Includes 120V wall charger, 12V car charger, USBcharger
10.Operates in temperatures from -40C to + 60C and 100munderwater
| | |
| --- | --- |
| 9 Flash Patterns | Operating Time |
| Rotate | 7 hours |
| Quad Flash | 7 hours |
| Single Blink | 60 hours |
| Alternating Blinks | 7 hours |
| S.O.S. (Morse Code) | 12 hours |
| Steady on - high | 4 hours |
| Steady on - low | 30 hours |
| 2-LED Flashlight | 7 hours |
| 4-LED Flashlight | 5 hours |
LED Road Flares Rechargeable Applications:
Identify road hazards, signal for help, mark detours,underwater scuba or repair applications. Ideal for emergency responders. roadsafety identification by emergency responders and personal vehicle operators.May also be used on construction sites, for aviation marshalling and taxiing,event management, in marine applications for boater emergency safety or scuba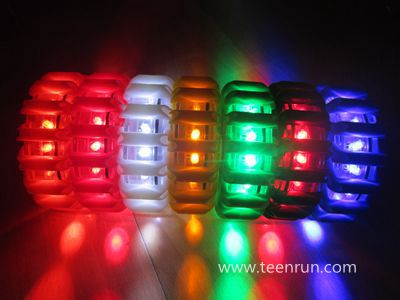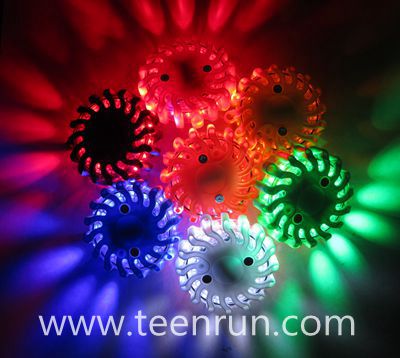 LED Road Flares Rechargeable is an ideal signal light to identify Road Hazards, Mark Detours, Underwater Repair Applications And More and A great item to keep in your vehicle at all times that can be used to signal for help or identify road hazards and used for police, firefighters, EMTs, rescue services, first responders, members of emergency response teams and the general publicand used in cars, trucks, boats, RVs, semi-trucks, construction zones, and emergency response vehicles.
Unlike flashlights with alkaline batteries or chemical light sticks, LED Road Flares Rechargeable can handle extreme temperatures and extreme situations (intrinsically safe), and feature an impressive 10 year storage/shelf life, using lithium batteries that won't ever leak. This same technology used by first responders and the military is now available for you and your family.